I've been actively using NordVPN for more than two years now. Since I do a lot of traveling, the internet connection is usually pretty slow. I'd absolutely hate it if my VPN would slow down the Wi-Fi even further. It happened a few times, but it's easy to overcome.
Using NordVPN as a proxy for your internet connection will slow your download speed down by 25%. NordVPN slows down upload speed by 6%. However, depending on the VPN server location you choose, Wi-Fi can be slower. In a rare case, using a NordVPN server will completely disconnect your internet connection.
From my experience after two years of using their VPN service, NordVPN will rarely be a significant bottleneck for your internet speed. On the rare occasions that it does give some speed hiccups, the best solution is to switch to another server, or change the VPN protocol.
Internet Speed Test: NordVPN vs. No VPN
What better way to answer the question than doing a speed test. To determine the real-time maximum download and upload speed (as well as ping), I've used the website Speedtest.net.
During this test, I'm in an Airbnb with a terrible Wi-Fi connection, so I've used my 5G mobile hotspot on my phone to execute the test. The hotspot uses an unlimited data plan from T-Mobile. Three simple speed tests were performed. The results are shown below.
1. No VPN used:

2. NordVPN activated, with the most nearby auto-suggested VPN server:

3. NordVPN activated, with the most distant server from my current location (New Zealand):

The reduction in internet speed is measurable. Not using a VPN will always result in the fastest internet speed, even NordVPN acknowledges that. Under optimal conditions, using NordVPN will slow down your download speed by an estimated 25%. Upload speed is reduced by a little over 5%.
If you choose a server that is physically further away, download speed and upload speed will both take a significant hit. Using NordVPN in a country far away can reduce internet speed by over 60%. Upload speed is reduced by over 25%. Ping is increased by a 20x multiple.
The solution for a faster internet connection is obvious: change server location to the most optimal choice. A server that is physically near your current location will give you the best possible results.
Change Your NordVPN Server Location
To change your server location, open NordVPN from your taskbar. Simply click on another country to start using the local VPN server. NordVPN automatically allows users to choose the best server within any given country, to optimize for internet speed and performance: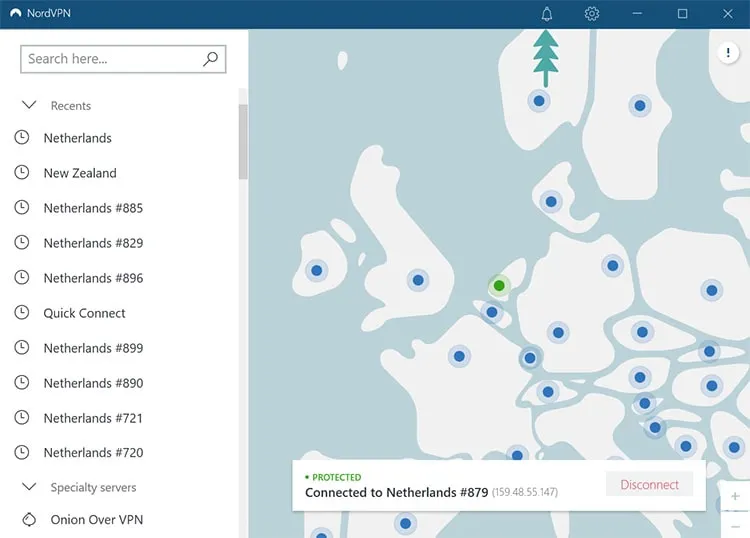 Currently, I'm staying in The Netherlands. So I use a VPN server in that country. As you can see in the 'Recents' server bar on the left-hand menu, a lot of different servers are located in the same country. NordVPN software will automatically choose the server that gives you an optimal site speed performance.
When experiencing connectivity problems, choosing another VPN server will usually do the job. Wait a few seconds for the VPN to reconnect, and your connectivity problems will be gone. This is true for 95% of all NordVPN server problems.
In the rare situation where NordVPN is not able to fix your VPN speed, completely changing the protocol of the VPN might offer a solution.
Change The VPN Protocol To NordLynx
As a last measure, you can increase your browsing speed by changing your VPN protocol. NordVPN suggests using NordLynx, which is their own protocol. If you want to know how to activate NordLynx, follow the steps below.
First, open the NordVPN app on your computer and follow these steps:
Click on the NordVPN app settings (cogwheel icon in the top right corner)
Click "Auto Connect" on the left side of the Settings menu
Disable "Choose a VPN protocol and server automatically"
Select NordLynx as your "VPN protocol" (here's how to do it in Windows)
If this didn't help, reset your Wi-Fi network or contact NordVPN support to help fix your problem. That's basically all there is you can do. If you're already using the VPN service and still seeing speed drops, your internet service provider (ISP) could also be the problem.
Can NordVPN Make Your Internet Faster?
Using a VPN service such as NordVPN will never make your internet faster. Activating a VPN adds extra server connection steps to your internet connection procedure. A service such as NordVPN will slightly decrease your internet speed, but the proxy server will never help increase your Wi-Fi performance.
So if you're looking for a VPN service to boost that wobbly, Wi-Fi connection at home, you're better off switching to another internet service provider (ISP). Here are a few other practical tips to boost your (wireless or wired) internet connection.
Despite the VPN slowing internet down, the benefits of using such a service are plentiful:
Hidden IP address
Bypass region-locks on Netflix or websites
Increased privacy online
No more data throttling
Bypass local censorship measures
Will Using Multiple Devices Slow Your VPN Down?
Users can use NordVPN on a maximum of six devices by default. However, VPN routers can increase the number of devices drastically. If you're using multiple devices on the same router or Wi-Fi connection, internet speeds will undoubtedly decrease.
The logic is the same with or without a VPN: the more devices attempt to connect to a single router, the more the available data needs to be divided over the different users. It's recommendable to always keep the amount of simultaneous users limited for optimal internet performance.