AirPods are immensely popular accessories among young people. Apple's wireless headphones fit almost any type of ear. But does this claim hold up for people with an ear-piercing?
In general, Apple AirPods can be worn together with any type of piercing. The wireless headphones do not interfere with a Daith, tragus, conch, rook, or snug ear piercing. To fit AirPods more comfortably, piercing owners should adjust their jewelry for the perfect fit.
Regardless of the AirPods you own, they will fit snugly into practically any ear shape. Only when you just placed a new ear piercing, having earbuds in can be a bit painful or irritating.
If you're the proud owner of a conch or tragus piercing, comfortably fitting your AirPods will be a bit challenging. This problem is a lot less prominent with Daith piercings.
Daith Piercing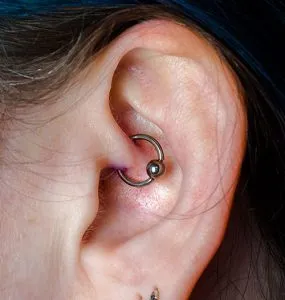 The size and shape of the ear will determine how comfortable it is to wear AirPods for a Daith piercing owner. It is not recommended to wear any headphones with a new Daith, you should always wait for the wound to fully heal.
Most people are able to wear AirPods with a Daith piercing without problems. While AirPods are likely to fit most ear shapes, having a Daith piercing can cause the piercing to bleed and swell after a while. This will only happen when the AirPods put pressure on the metal.
For some users, having a Daith piercing can make it harder to wear some types of wireless headphones. Others won't even touch the piercing at all. Everyone's ear shape will be slightly different. It is recommended to try them on before buying to learn what works best for you.
Tragus Piercing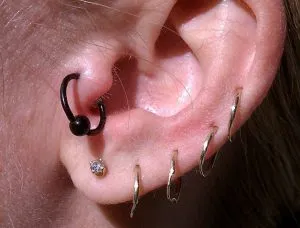 Tragus piercings are incredibly common these days, and it's easy to see why. They immediately catch the eye! However, they can be a bit uncomfortable while wearing wireless headphones.
Generally, a tragus piercing will not obstruct Apple AirPods. For most users, the headphones should be placed around the jewelry for a comfortable fit. Alter the placement of the AirPods or the tragus piercing itself and make sure the two objects don't touch.
If you have multiple ear piercings, this can turn out to be a bit of a struggle. You might want to try to wear your AirPods upside down to increase overall comfort.
This unique method of wearing headphones might seem a bit odd, but it is unlikely for the devices to fall out of your ear.
Conch Piercing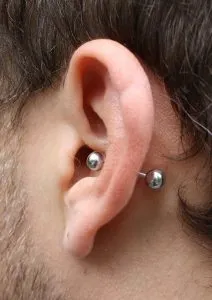 Conch piercings somewhat obstruct the ear canal, at least for placing your headphones in your ear. However, that doesn't mean that listening to music on the go is not an option for you.
Generally, the owner of a conch piercing can still wear their AirPods without any problems. New conch piercings should heal for several weeks before wearing headphones is painless, but the piercing itself will not obstruct the placement of AirPods in your pierced ear.
It is possible that you need to maneuver the metal rod around for your headphones to sit comfortably in your ear. While it may look like the little metal ball prevents you from using AirPods, this is certainly not the case!
Rook Piercing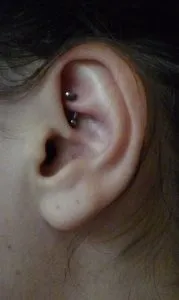 Since a rook piercing is placed relatively high up in the ear, it should not be a problem to use AirPods or similar wireless headphones. Even when you just placed a new rook piercing, using AirPods will not be an issue for users.
While your wound is healing after placing the rook piercing, it is possible that the ear is swollen or irritated. This could make using AirPods slightly uncomfortable for a few days to weeks.
Users should be a little careful with putting the AirPods in their ears in the first few weeks. If you accidentally hit the rook piercing with your earbud, that can hurt quite a bit! Once the ears are back to normal, this should no longer be an issue.
Snug Piercing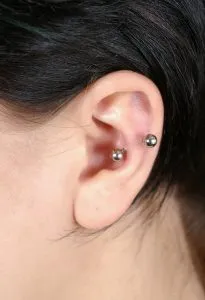 Last but not least we have the so-called snug piercing, which is visually similar to a conch piercing. The only difference being that snug piercings do not penetrate the back of the ear at all.
In general, snug piercings should interfere with using AirPods less than conch piercings. The metal ball is placed further away from the ear canal, which makes it easier to use headphones. Be careful using AirPods with new snug piercings, since the ear can still hurt for a few days.
You'd want to avoid hitting the little metal ball with your wireless earbuds in those first few days. After the wound has fully healed, this problem will go away. It's still possible that pressure from AirPods usage might cause an infection at some point, but the chances of this happening are relatively small.
All Piercings Are Compatible With AirPods
On average, no ear piercings should interfere with AirPods usage for longer than a few days after placing them. Depending on your ear shape and the location of your piercings, it can be harder or easier for you to use wireless headphones.
In case you have multiple piercings in one ear, it might be harder to use AirPods depending on what parts of the ear are used.
Be mindful of the fact that any metal located near the entrance of the ear canal can cause issues with AirPods usage. If you already have pierced ears and want to go from wearing wired headphones to AirPods, make sure to fit them and test them out first.
You can do this by going to an Apple store near your location, which you can find in this overview.