While a lot of free VPN services exist, choosing a premium service like NordVPN is a lot more secure. NordVPN offers a strict no-logs policy and will never sell your data with others. That's why choosing a premium service is usually the better choice.
NordVPN offers a free 30 day trial to all new users. To take advantage of the free trial, download the NordVPN app on your device and create a NordVPN account. After the free trial period is over, users will switch to a monthly, yearly, or two-year premium plan.
After the free trial period, the premium cost of using the VPN service will differ according to your payment plan. Monthly subscriptions will be cheaper in the short term, but more expensive than paying for a full year upfront.
How To Get NordVPN For Free (Limited Time)
If you'd like to try out NordVPN without cost, this is possible for a full month without any risks or obligations. You get the full experience and can use NordVPN on multiple devices. The popular VPN service is available for free for 30 days, after which the premium VPN will cost only a few dollars a month.
To get access to the free NordVPN trial for 30 days, follow these steps:
Go to the NordVPN.com website
Click on the 'Start Now' button
Create your NordVPN account
Subscribe to a premium plan and use your free 30 days
Download the NordVPN software and activate your VPN
After 30 days, contact NordVPN support to request a refund and cancel your account
A full refund will be provided and the NordVPN experience was free!
The method is a bit of a workaround, but it does work. It does require a small payment, but support is obliged to give you the full refund on the money paid. All you need to do is make sure you've requested your refund on time.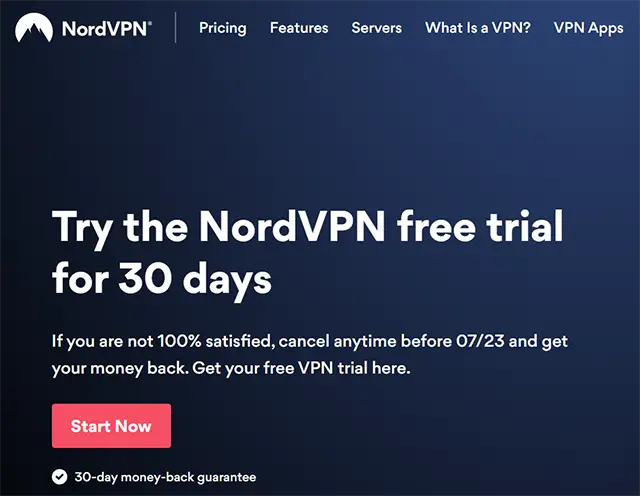 Free NordVPN Trial: Credit Card Details Needed?
Users do not need to provide their credit card details to activate their free NordVPN trial. Accessing the trail for a NordVPN plan is possible with payment options such as Google Pay, AmazonPay, UnionPay, iDeal, and a range of different cryptocurrencies.
This gives users the freedom to avoid automated recurring payments. This is a major nuisance for a lot of monthly software subscriptions. Luckily, credit cards can be avoided completely when accessing your free 30 days on NordVPN.
Free Months In The Premium Plan
If you're satisfied with NordVPN as your primary VPN service provider, you have the benefit of oven more free months. It will often happen that 3 free months are offered as a bonus for a 2-year premium plan. This will further increase your savings without much risk.
However, do remember that there is only a 30-day full refund period on any of these plans. If you're only interested in using NordVPN for free, make sure to cancel your existing subscription before this period is over.
If you decide to cancel after the 3 free bonus months, NordVPN does not need to refund users on the money paid. That means that after picking the 2-year plan, you're locked in for the full 2 years after the first 30 days are over. After the first 30 days, you won't be able to get your money back anymore.
Is NordVPN Easy To Cancel?
Cancelling a NordVPN plan within the 30-day refund period is very easy. Simply go to the NordVPN website and contact support under 'Help' to request a refund. Provide your account details and a full refund will be processed automatically.
Users can cancel a NordVPN account anytime, as long as the refund period is not over. The money-back guarantee does not require the user to give a valid reason for cancelling their plan.
If you happen to have any questions about getting cost-free access to the Nord VPN service, feel free to leave a comment in the discussions section below this article. I'll try to get back to you as quickly as possible with an answer!
Also read: Will NordVPN slow your internet down?